Know the techniques of home relaxation by joining your bath and bedroom as per modern trends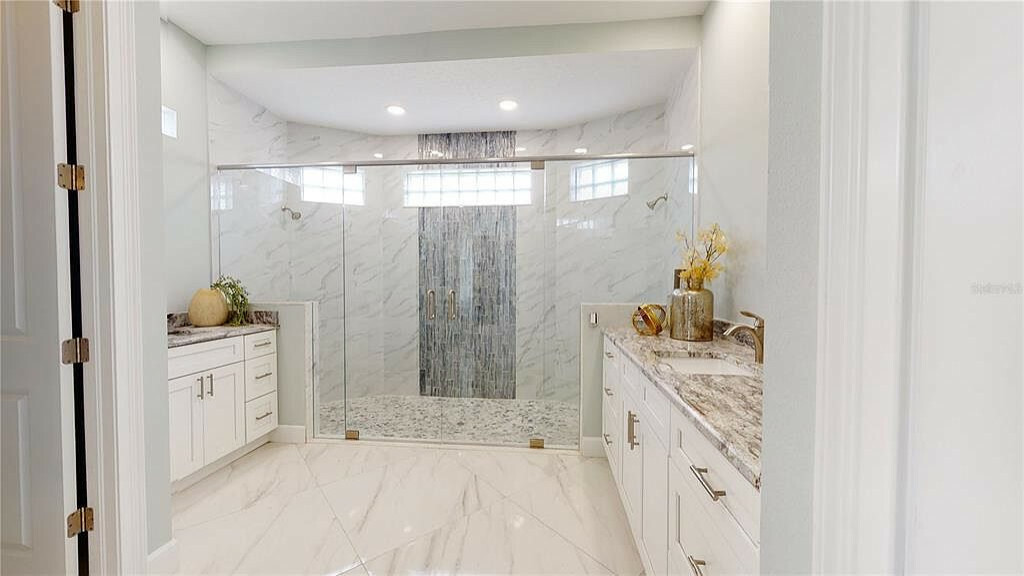 Have you been searching for bathroom ideas for your ensuite but don't consider them fashionable enough? No need to look any further because we've gathered the best ensuite design advice from the pros in the city of Milpitas!
What is an Ensuite Bathroom?
A bath space linked to the master bedroom is treated as an ensuite bathroom. It's designed for personal use and isn't usually intended for visitors. The most desirable ensuite bathrooms generally carry three attributes: pleasant, functional, and well-designed. Because you'll be the one using it, it's only justified that you go beyond your imagination to design a bathroom that delivers the best toilet and bathing experience.
How to Design an Ensuite Bathroom?
A modern ensuite bathroom is a concept to go after if you want a design that you would love to incorporate. The following techniques will help you make your bathroom look sleek and up to date:
1. State of the art Features
· Rather than the traditional brass or gold faucets, you may opt for matte black fixtures for an elegant look.
· Install a freestanding bathtub for structural attraction.
· For enhanced visual value and a pleasant bath experience, install a rainfall showerhead.
· For a clean, crisp aesthetic, use a shower glass enclosure. Just make sure the shower glass is free of streaks.
2. Lavish Paint and Finishing
· For a trendy ensuite bathroom, bleached oak and matte black are the ideal Color palette options. To make your bathroom dazzle, use mirrors, glass, and steel as accents.
· Instead of tiles, choose the modern stone-finish porcelain flooring. Although tiles are less expensive, stone-finish flooring is more gorgeous and durable. Concentrating on this one investment and avoiding needless decor and fittings will help you get the maximum out of your remodeling budget.
· For a textured aesthetic, use a matte plaster finish on the walls. When lighted with pleasant ambient lighting, this type of wall covering will look incredibly attractive.
· Add a sliding pocket door in your ensuite to provide a little privacy when you're taking a shower.
How to Utilize a Small Space for Building an Ensuite Bathroom?
Even if you have a little area, you should be able to enjoy the seclusion of owning your own ensuite. You can turn any tiny nook near your bedroom into your personalized toilet and bath with these amazing small ensuite bathroom solutions.
1. Begin with the Basics
· When it comes to small ensuite designs, the first thing to keep in mind is to work around the three permanent elements of a bathroom: the sink, the toilet, and the shower section. Everything else can be considered as an afterthought.
· Choose a toilet bowl that is proportional to the size and shape of the ensuite bathroom. An extended toilet bowl looks great in a narrow bathroom, whereas a circular toilet bowl looks better in a square or rectangular bathroom.
· Make use of your toilet size as a benchmark to determine how big or tiny your shower and sink should be.
2. Incorporate Space Saving Fixtures
· Install a pedestal sink to provide the impression of height and more space to walk around. Avoid sinks with a large footprint since they will take up a lot of space in your ensuite bathroom and make it stuffy. A wall-mounted sink is just another nice option; it will free up a lot of room that you can put to better use, such as storage.
· Interior designers recommend installing a wall-mounted faucet. You don't have to worry about sacrificing style for space-saving utility with this type of installation. A wall-mounted faucet is easy to dry and clean! Install a faucet with a single lever rather than two for greater flexibility.
· Use a floating vanity cabinet to complement your sink. Rather than overburdening, the space beneath your fixtures raises the entire bathroom space, and it appears like a large ensuite bathroom zone. Choose a curved vanity to optimize your space to great effect.
3. Space Illumination
· By placing mirrors in strategic locations throughout your ensuite bathroom, you can make your bathroom fully illuminated. Above the sink, a giant unframed mirror is an excellent place to start.
· Using artificial illumination technology to have a spacious feel will open up the entire space and make your bathroom look more appealing.
· LED background lights behind mirrors and cabinet shelves not only enlighten the ambiance but also give your bathroom a premium feel.
· A frameless glass shower door divides the shower from the rest of the bathroom and reflects light, making the space appear larger and inviting. Remove the shower glass door entirely if you want your bathroom to have a seamless flow. However, make sure you have built a sloping drain to prevent water from spilling over the entire bathroom floor.
4. Continue With the Same Tones
· Regarding the palette, it's best to stick to light colors, although this isn't a fixed rule. You can use darker tones as well to the extent that the contrast is kept low. The most crucial thing is to stick to a certain color scheme. For example, if you go for light colors, you need to follow that palette. Besides, you may combine black and charcoal grey with a touch of pine green and navy blue in place of blush or sky blue when using deeper colors.
· Windowless bathrooms, on the other hand, appear better with dark tones, while light-filled bathrooms with windows seem superior with brighter tones. To avoid a cluttered appearance, avoid blending light tones with darker shades.
5. Continue Using Large Patterns
· Just because you have a small bathroom doesn't mean you can't use wallpaper. Oversized wallpaper motifs can make a space appear larger. Your bathroom will look bigger if the design is relatively on a large scale.
· If wallpaper doesn't go with your taste, consider installing wall-to-wall tiles. These are waterproof, durable, and cost-effective.
Adjust as much light while arranging your small ensuite bathroom to make the space appear as bright and spacious as possible. Remember to get rid of the clutter and improve the flow in your bathroom.
Conclusion
When it comes to ensuite bathrooms, luxury is generally the essence. However, every homeowner actually wants one that fits his/her lifestyle. If you have a master bedroom suite in need of some TLC, we'd love to talk to you about how we can make it stylish, efficient, comfortable, and practical. Bath remodel ideas by Barnes Remodeling is always available to satisfy your ever-changing demands. Please contact us to discuss your remodeling requirements.